Getting back into the swing of things – August
Our doors have been open for over a month and we have been incredibly busy so thank you for booking with us and helping this local business pull through this crisis. It has been great to see some familiar faces back in the centre and also many new ones.  We are still open every day.  You can book online but if you can't see the appointment you want then please do call as we can sometimes arrange for other therapists to come in.  BOOK ONLINE From the 8th August it is mandatory for clients to wear a face mask in the centre so please bring one with you.  Treatments on the face (including eyebrow, lash and facials) are now available!

The use of the sauna are still not permitted yet (29th Aug).  If you are desperately waiting for it to open, please call or email the centre and we will take your details down on our waiting list and call you so you will be the first to know when these services resume.  We have been working hard to make sure the salon will be a safe environment for both yourselves and our staff and we closely follow Government guidelines on P.P.E. Guidelines that are published on the Government website are the ones that we have to adhere to. Unfortunately, some practises are offering treatments before they should so please don't use these as a guide as to when we should be offering them.   
 
We are now back open for our ONE ENERGY reiki group sessions at the centre. They take place every first Sunday of the month from 11.30am – 1pm.  This is a group talking session, no experience is necessary. £5 donation. It's a drop in but advisable to book beforehand as due to restrictions we have a limit on numbers.  Next session is 6th September 2020
How often do you find that you're not sure which way to go or you know but you have no time or lacking confidence to move forward?I can help to put you on the right track. Common areas I help with:Career Change / Advancement; De-cluttering your life of things & people; Procrastination; Carving out time for you & your projects; Stress Management; Time Management; Taking the Plunge in a new area of life; Setting Goals; Sorting you, your home and your family out; Rediscovering who YOU are, your passions and your life. Karen Burke continues to offer this virtual coaching Mon/Wed morning and evenings
 
We are working on selling MindBody Therapy items we have created ourselves such as the CALM range of body and bath products; the new CARIB range of body oils and products especially designed for aching limbs; the popular room sprays – great for setting your intention and room cleansing – especially useful now as we are spending more time at home. These are items you can't get on the big shopping giants like Amazon and it encourages us to continue making and offering unique handmade products – all made with intention. If you can think of any items you think we should sell online, let us know. These will be available to post (UK only) ORDER NOW!
Do you or someone you know, need to speak with someone? Mental wellbeing has a significant impact on our physical wellbeing. Through the social enterprise T4H, we are able to offer FREE 121 talk sessions. Looking after yourself is not selfish. Email info@T4H.org.uk to join. READ MORE
OUR NHS HEROS
Through your donations our fundraising campaign enabled us to treat some NHS workers to free treatments.  Below are their stories…..

Miriam Harley She's a single mum of three children and a Cancer Nurse Specialist at King's. She was one of the first to step up for redeployment and juggled long shifts on Covid wards and ITU. She would do whatever she could to make a difference.  For example, one patient had been ill with Covid for a long time and was feeling very low. His phone had been lost on admission to hospital meaning he had no way of keeping in touch with his family. Miriam went out of her way to find his phone and also arranged with his family for his clippers to be brought in so she could give him a haircut. Being able to speak to his wife and children again and feel cared for in this way really lifted this patient's spirits, making such a difference to him and his family.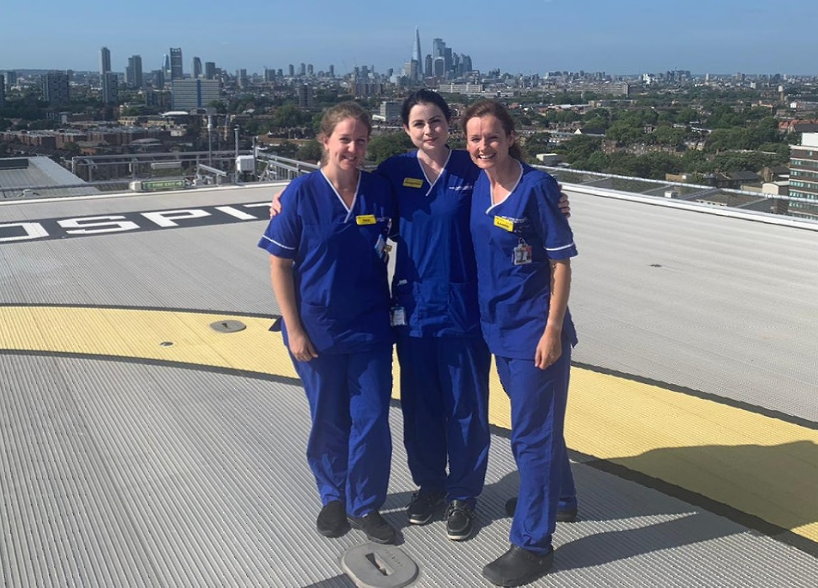 SARA WYLIE  As well as being a busy mum to two young children she is also an Intensive Care nurse at Kings. She has been working on the Covid ICU wards as well training staff who were transferred from other parts of the hospital to work in ICU. She is always optimistic and positive and she is also a brilliant friend. .Sara: "During the pandemic our Critical Care expanded from 69 beds, to over 130 beds. We have seen incredibly sick patients fight and survive COVID-19. I have also seen our  nurses complete marathon shifts in full PPE. Both patients and my colleagues have surpassed all expectations"
We are experiencing high levels of demand for treatments so please don't leave it too long to book. Have a happy and healthy summer. From the MindBody Team x